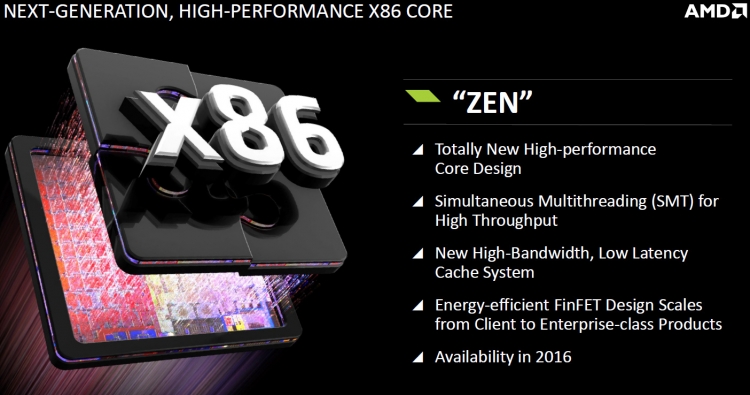 Advanced Micro Devices Corporation prepares a large family of processors based on the Zen microarchitecture, which will be presented in the fourth quarter of the next year. Although Zen promises to very significantly increase the performance of AMD chips, the company plans to offer such chips not only for expensive personal computers.
Earlier this month, AMD and Globalfoundries announced that the first samples of processors based on the Zen microarchitecture, which will be produced using the second generation of the 14-nm of the Samsung/Globalfoundries technological process, were obtained by AMD and work correctly. According to earlier information, Globalfoundries may begin to produce processors known by the Cord Summit Ridge, already in the summer of the next year, and the official start of sales of new chips will begin in October.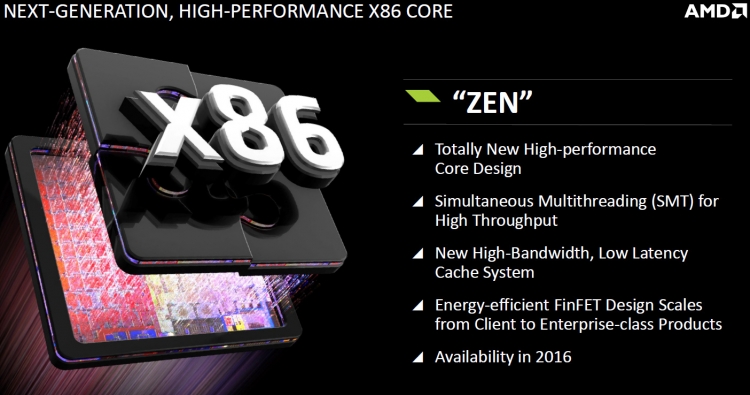 According to AMD, the Zen microarchitecture nuclei will be able to execute 40 % more instructions for the beat (Instructions per Clock, IPC) compared to the cores based on the current generation of Excavator architecture. As a result of such a significant increase in performance, Summit Ridge and other Zen -based products will have much higher competitiveness than AMD products today. For example, Summit Ridge will be aimed at powerful desktop PCs, workstations and servers.
Although Summit Ridge promises to be very powerful, AMD plans to use this microcircuit in different configurations not only for expensive PCs. According to one of the news sites, the processors for desktop PCs based on Zen nuclei, which are supposedly related to the AMD FX family, will have four, six or eight cores. Thus, these CPUs will be used for PC in different market segments. For example, the younger AMD FX based on Zen could compete with the four-haired Intel Core i5/i7-6600/6700, while the senior AMD FX based on Zen with six or eight cores could compete with Intel Core i7-6800/6900 processors.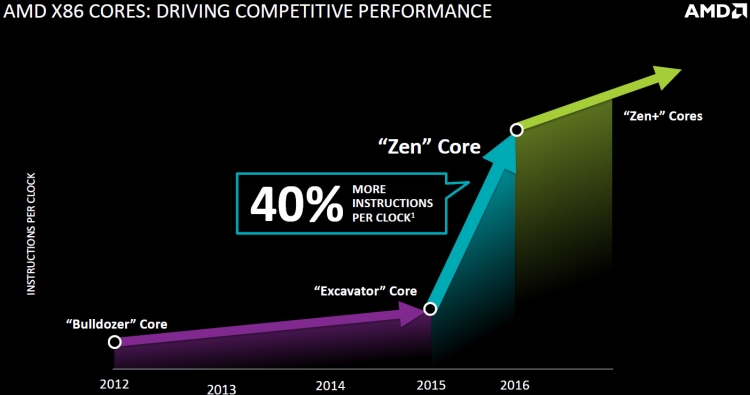 According to data published unofficially earlier this year, Zen nuclei — Like all modern X86 Yadra — very compact and well scaled both in clock frequencies and energy consumption. Thanks to such architecture, AMD will be able to use Zen for both powerful server solutions, and for high -performance Raven Ridge hybrid processors, and for simple APU for thin laptops. According to rumors, Raven Ridge can take place in the first half of 2017. As for cheaper solutions based on Zen, there are no reliable terms of their appearance yet.
As expected, AMD Summit Ridge (Zen), Raven Ridge (Zen), Bristol Ridge (Excavator) and Stony Ridge (Excavator) will use the unified AM4 platform will use the unified platform. This platform will be characterized by support for DDR4 two -channel memory, Promontory logic, support for all modern technologies including PCI Express 3.0, NVME, SATA Express and others. Due to the unification, the cost of desktop PCs based on AMD chip will be slightly lower than that of the competitor (which offers several different platforms for various market segments), however, the capacity of the DDR4 two -channel memory can become a factor that will negatively affect the performance of the eight -core AMD FX processors onBase Zen.
AMD confirmed the output plans of the first microprocessors with Zen nuclei in 2016, but never commented on information regarding their specifications or characteristics. As a result, real products may differ from the one that is discussed unofficially.
Source: