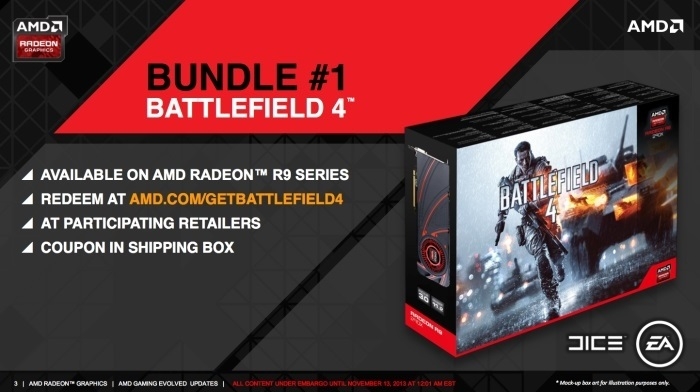 Earlier this week, AMD announced that she would complete its new graphic cards Radeon R9 290X, R9 290, R9 280X, R9 270X and R9 270 Free copy of the popular war Military School Battlefield 4. Then we very highly regarded this step of the company: this game, which at the end of December will receive Mantle support, well reveals the potential of the Volcanic Islands graphic accelerators, and in addition, is a useful acquisition for gamers in itself. For many users, a complete Battlefild 4 could really become a significant argument in favor of switching to a new graphic accelerator of the Radeon R9 family. But there is one problem: as it turned out, getting the promised free Battlefield 4 is quite difficult.
Despite the fact that earlier AMD said literally «If, starting on November 13, the gamer will buy any video card of the AMD Radeon R9 series, it will receive with this purchase Battlefield 4», In fact, everything turned out to be completely wrong. In fact, free copies of Battlefield 4 are attached only to a very, very small number of Radeon R9 graphic accelerators available.
Now AMD comments on the current situation in a completely different way: «While theoretically, all Radeon R9 can participate in promotions, our partners from among the manufacturers of graphic cards and sellers can independently decide on what specific products will include a copy of Battlefield 4». In other words, all Radeon R9 could be equipped with a free game, but which cards receive a complete Battlefield 4 and which – No, the suppliers of graphic boards are finally determined: Gigabyte, Sapphire, ASUS, etc.D.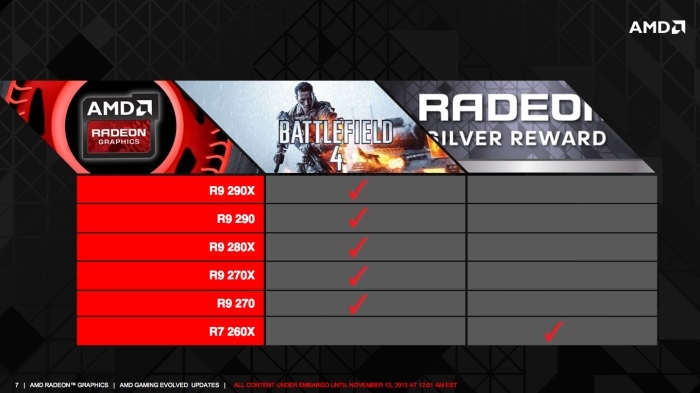 Moreover, obviously, the action proposed by AMD turned out to be too costly for partners, and they are not at all eager to put a copy of Battlefield 4 in boxes with their products. About what in reality the AMD campaign turned into is easy to trace on the proposals of the popular American store NewGG. Of the 43 different Radeon R9 models, which you can buy in this store at the time of publication of news, a free game can be found only in eight cases. At the same time, video cards, different from the flagship model Radeon R9 290x, but staffed by the game, are only four. Well, to top it, it should be noted that the free Battlefield 4 in reality is not entirely free: cards equipped with a shooter cost about $ 20-30 more than those who do not participate in the action of analogues.
As a result, a loud action, which could really increase user loyalty to AMD graphics cards, turned out to be not too honest marketing reception. In fairness, it should be noted that on the official page of the action there are explanations about what the company meant, announcing the distribution of free Battlefield 4. So, at the moment there you can find links to specific models of video cards of AMD partners, which are really supplied with the game.
In conclusion, it remains only to add that after the whole story came out, AMD promised to play among the newly made owners of Radeon R9 video cards an additional thousand copies of Battlefield 4. The terms of the draw will be additionally announced on Facebook and Twitter accounts of the company.
Sources: