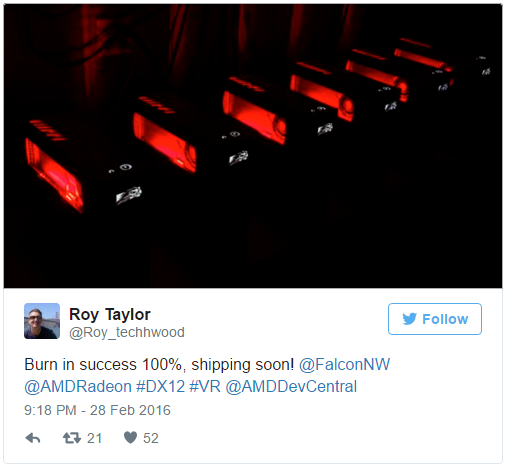 We have already talked about the experimental demonstration system Falcon Northwest with the AMD Radeon R9 Fury X2 prototype installed in it. She was demonstrated at the VRLA exhibition, held in Los Angeles, California, USA. At the same time, the system was not just beautifully standing on the stand and illuminated, but was quite working and was used to demonstrate the possibilities of virtual reality provided by AMD technologies. It turns out that such a system does not exist in the form of a single exhibition copy.
According to foreign sources, there are quite a lot of such finished systems. One of the pictures captures six black buildings with red backlight at once — the same as the sample shown on Virtual Reality Los Angeles. But this is not all: there are pictures in which the ranks of shelves are flaunted by such systems. The version was expressed that this is a version for VR developers. It differs from the usual one with a bright red case with the AMD Radeon logo, the rest of the systems are identical. The new AMD systems look quite stylish, but although their number in the pictures is impressive, it is not clear whether they will go to retail sale in any noticeable amounts.
Taking into account the relatively speedy emergence of solutions based on Polaris — Most likely no. On these machines, the developers will learn to work correctly with virtual reality in DX12 and Vulkan environments, since the performance of the systems looks very impressive — It is enough to recall the indicator 12 teraflops. They are 9 times faster than MicrosoftxBoxone and 7 — Sony PlayStation 4, and this is with comparable dimensions. AMD two processor systems, as our readers already know, have their own name — Tiki. Theoretically, their performance should reach 16 teraflops taking into account the indicators of a single processor Radeon R9 Furyx. But the dimensions of the case and the use of the air cooling system, apparently, were forced to go to the designers for tricks, such as a decrease in the clock frequencies of graphic nuclei.
Sources: