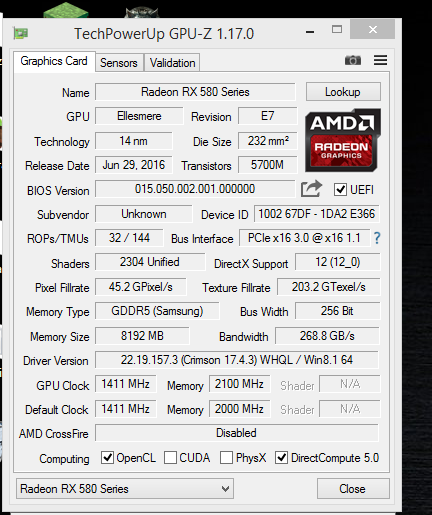 Stories with reflaming graphic maps are numerous — Some of them are not very successful, up to the bringing of the device in complete inoperability, other than in our case with the ASUS Strix R9 Fury, are quite successful: this copy still works great in one of the workstations in a complete configuration with 4096 processors GCN 1.2 and 256 texture modules, and the clock frequency of the nucleus corresponds to the value for Fury X and is 1050 MHz. As it turned out, AMD made a similar gift to the owners of the Radeon RX 480 based on the Polaris 10 nucleus: just use the corresponding version of the BIOS from the Radeon RX 580 video card, which has a similar configuration, but a more new version of the graphic nucleus.
The experiment was conducted by one of the participants in the TechPowerup forums using XFX RX 480, and for firmware, Sapphire RX 580 Limited Edition was selected for firmware. There were no problems in the processing process, and the GPU-Z utility defined the card as Radeon RX 580, although in the column «Subventor» And it was written «Unknown», which is not surprising, because according to the GPU-Z database in the nature of this «Hybrid» It cannot exist. The audit of the chip was defined as E7, and the clock frequency has successfully increased from 1300 to 1411 MHz, which led to the appropriate performance growth. This, perhaps, is the only meaning of such a flashing, since the configurations of the Polaris 10 and 20 chips are the same: 2304 GCN processors, 144 TMU and 32 RBE.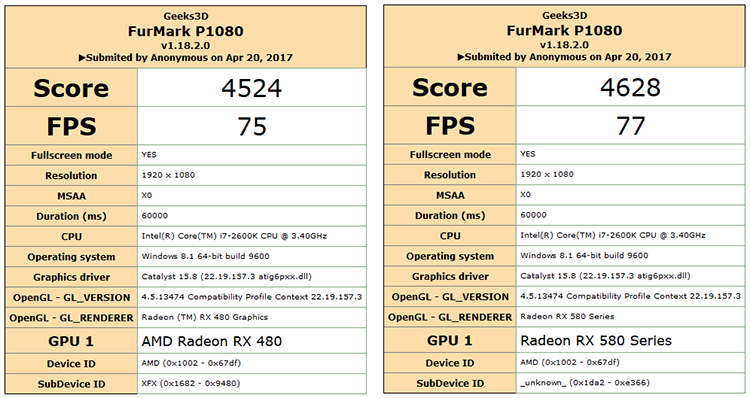 The map successfully passed tests under load in such a demanding game as The Witcher 3, and the Furmark test;No problems were recorded, but any attempt to further accelerate instantly led to the collapse of the driver. No wonder — Polaris 10 frequency potential is significantly smaller in Polaris 20, which contains a number of improvements, including this part. It should also be remembered that the supply voltage of the latter is 0.1 volts higher, which allows most Radeon RX 480 to go through the above procedure. But not everyone: some cards may be inadequate due to a not too successful instance of GP, and then you should return to the old version of BIOS. However, it is still pleasant to see the continuation of the policy of complete openness, which recently follows Advanced Micro Devices.
Source: