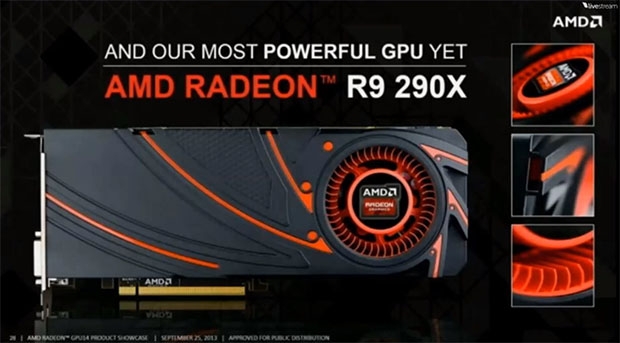 According to information from the manufacturers of graphic cards, AMD decided to move the announcement of its flagship video cards Radeon R9 290X and Radeon R9 290 for a later period. Thus, on October 15, you should not wait for the appearance of reviews of expected new products, nor the start of sales of graphic boards built on Hawaii chips.
As for the new date of removing the information embargo to publish information about the characteristics, price and performance of Radeon R9 290X and Radeon R9 290, it currently remains unknown. However, it seems that AMD has some problems with the supply of new products to both the press and sellers in the form of BattleFined 4-computers, the sales of which, according to the initial idea, should have begun at once with the publication of reviews. That is why many large stores, for example, are the same NEWEGG, have not yet launched the reception of preliminary orders for Radeon R9 290X Battlefield 4 Edition. At the same time, the most believable is the version distributed by some AMD partners that the full -scale announcement of the Radeon R9 290X and Radeon R9 290 will now take place at the end of the month, closer to the date of the official launch of the game Battlefield 4.
Thus, it may turn out that the flagship AMD video cards will be published somewhat later than the NVIDIA graphic accelerators are updated, which, according to some reports, is scheduled for this week. This can give AMD for some time to revise the characteristics and, most importantly, reflection on the correct pricing. Therefore, it can be assumed that the initial dissemination of information about the announcement of the Radeon R9 290X and Radeon R9 290 on October 15 and the subsequent transfer of this date – Nothing more than a cunning information sabotage against a competitor.
Source: