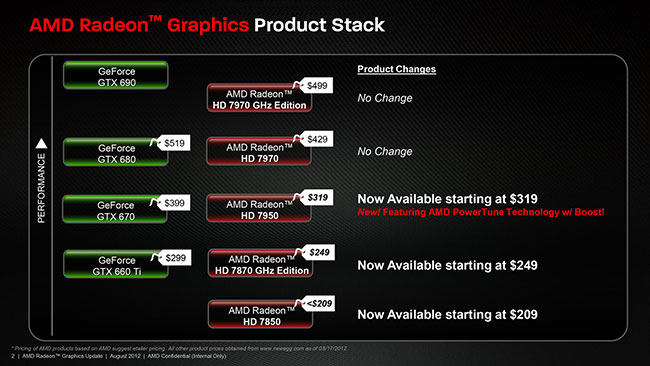 The GEFORCE GTX 660 TI video card on average offers customers a more profitable performance and price ratio than AMD accelerators — This is not surprising, because almost always when starting new accelerators, manufacturers try to make them a more attractive purchase. However, AMD does not doze off, and decided to fix the situation somewhat — At first, the company raised a little frequency at Radeon HD 7950, and now it has also become known about the reduction in the cost of a number of video cards.
AMD said that in the USA, recommended prices will be reduced in the coming days as follows (in other markets it is worth expecting similar reductions):
Radeon HD 7950 (including with high frequencies) will cost $ 320 instead of $ 350;
Radeon HD 7870 GHZ Edition — $ 250 versus $ 300;
Radeon HD 7850 with 2 GB of memory — $ 210 instead of $ 240, and with 1 GB — $ 190.
AMD equalized with this step, and in some places it escaped ahead in terms of performance and prices compared to GTX 660 Ti. However, the choice in favor of NVIDIA may be due to the fact that many GTX 660 Ti accelerators are equipped with a free copy of the Borderlands 2 game. To confront this, AMD also decided to offer free versions of Sleeping Dogs in the next few weeks with accelerators of the Radeon HD 7800 series.
AMD also strengthens its position by optimizing future games for your video cards through the Gaming Evolved program. Very loud projects like Medal of Honor: Warfighter, the new version of Tomb Raider, Hitman: Absolution and Bioshock Infinite should acquire DirectX 11 support and optimizations for GCN architecture.
Sources:
TechReport.com, Anandtech.com