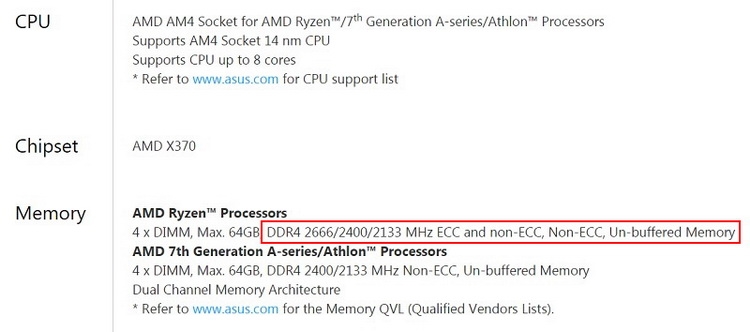 AMD Ryzen processors are intended primarily for games lovers and home use. In such systems, the memory of error correction is extremely rare, although the presence of ECC increases the reliability of the system, as well as, against all rumors, does not have visible negative impact on the performance of the memory subsystem. But the AMD Ryzen processors themselves are a fairly serious solution that is quite applicable to a single -processor workstation, because they head the model range of eight -core models with SMT support, which have excellent performance.
Based on the ASUS data on the Prime X370-Pro board, it can be assumed that the new AMD Ryzen processors will support the DDR4 memory with ECC support and the frequency of up to 2666 MHz. Currently, heterogeneous chips of the A series A and the Athlon processors are not supported and limited by the frequency of 2400 MHz, but it should be remembered that Ryzen shares the architecture with new Naples server chips, in which ECC support is necessary;Moreover, in the latter case, register modules with a greater capacity will also be supported. Unfortunately, they will not work with Ryzen, and this is sad news for some enthusiasts: registry memory today is very inexpensive;True, low prices are precisely due to its inconsistency in desktop systems.
ECC support will significantly expand the sphere of use of Ryzen: they can be used both as processors for workstations, and as the basis of inexpensive single -processor servers and data storage systems. Wherever the reliability of data storage is important with a high level of performance, Ryzen will be able to find its place, unless, of course, AMD decides to disable ECC support for any reason. It is not yet known whether this function will be available in all Ryzen models or only in some, but, in our opinion, AMD should not deprive Ryzen support of ECC — Its presence will only add to new chips of popularity, which means that sales volumes will be higher.
Source: