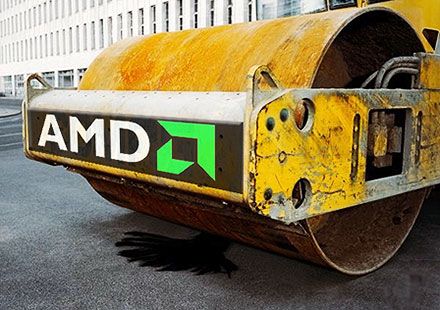 VR-Zone resource, referring to its own sources, reports that AMD is going to cancel a number of products planned for the exit at the end of this and at the beginning of this year, wanting to clear the way to AMD Steamroll architects (3 generation Bulldozer or K13) and Excavator (4 generation Bulldozeror K14), which are called to return the company part of the lost positions in the CPU market, correcting the main shortcomings of the Bulldozer architecture and ensuring a more effective confrontation with Intel.
Despite the fact that during the announcement of the Bulldozer AMD promised an increase in Steamroll at 15% compared to PileDriver in the field of productivity and energy consumption ratio, VR-Zone sources from the company (one of the engineers) say that we can wait for much moregrowth:
«Steamroller — This is not an improved architect Bulldozer. Neither V which Meres. The layout may not have changed in principle, but our components are completely different. When everything is implemented, we must get an increase at 45%, and this will show that the idea Bulldozer was beautiful. That was exactly what was supposed to become Bulldozer».
Let's hope that AMD engineers will actually carry out excellent work in Steamroller, and then fix the advantage using Excavator. The market needs a worthy competitor of Intel not only in the field of integrated graphics, but also in the CPU performance.
Source: