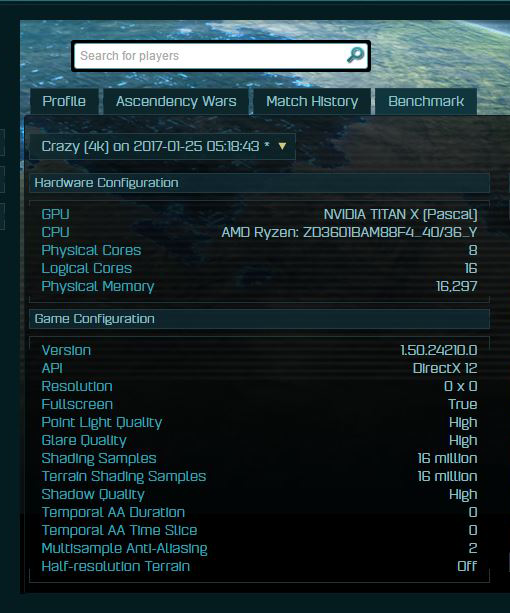 Asshes of the Singularity game is considered a good game test for modern systems due to its exactingness. There are no AMD Ryzen processors on sale yet, but the test results in this game already have. They are published by the user with the nickname AMD_FANBOY. We are talking about an engineering model with a frequency formula of 3.6/4.0 GHz, whose results have recently been in the ATS database. They were quickly removed, but such a procedure on the World Wide Web is usually useless — When there is something interesting, many users instantly make and retains the appropriate screenshots, to get rid of which is almost impossible. The configuration of the system from the point of view of the game is as follows:
Nvidia Titan X Pascal is used as a graphic adapter, which allows minimizing the effect of the video card on the result. The serial number of the processor is of interest: ZD36001BAM88F4_40/36_Y, especially the symbols F4. As we know, preliminary tests, the results of which were published earlier, used the samples of Ryzen Stepping F3, while here it seems, we are talking about the final corrupt version of F4.
An Intel Core i7-6900K is considered a direct competitor to the senior Ryzen, the frequency formula has a 3.2/3.7 GHz, which means that the AMD solution is noticeably superior in terms of frequency, yielding only in the volume of Kesha L3 — 16 versus 20 MB. The very fact of the work of all eight nuclei at a frequency of 3.6 GHz is already indicating a good frequency potential of Ryzen. If one core of the new AMD chip is capable of at a frequency of 5 GHz with extreme acceleration, then eight nuclei should easily accelerate to a frequency of 4.0–4.2 GHz or higher, and this is the Kaby Lake zone, the frequency formula of which is 4.2/4.5 GHz.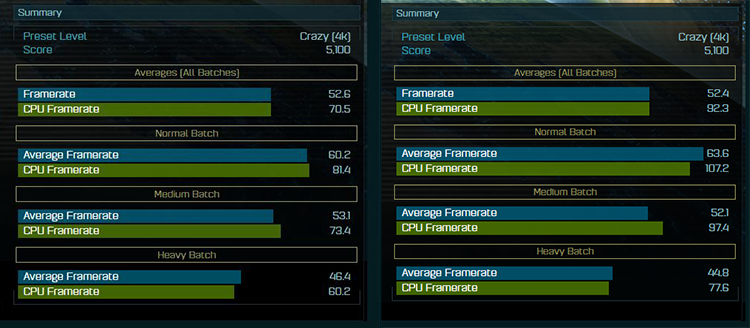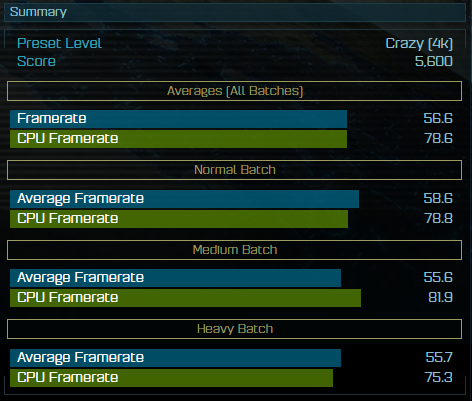 In the preset Crazy 4k, the system scored 5100 points. It is enough to glue the ATS database to find a similar result shown by the Intel processor system. The combined screenshot above the right shows just such a result. The video card in this system is not as powerful as the GeForce GTX 1080, but the processor is installed quite serious — Intel Core i7-6700K (Skylake), the frequency of 4 GHz in which is native to all nuclei, and in Ryzen it is achieved only in turbo generation. For comparison, the system with the Core i7-5960X processor gains 5600 points in this test, being equipped with a two GeForce GTX 1070 SLI-tandem. In other words, the final, apparently, AMD Ryzen version copes well with the role of a competitor of both game four-core processors and Intel Hedt Montens. It remains only to wait for the Ryzen sample in our test laboratory to finally find out how successful the new AMD chip came.
Source: