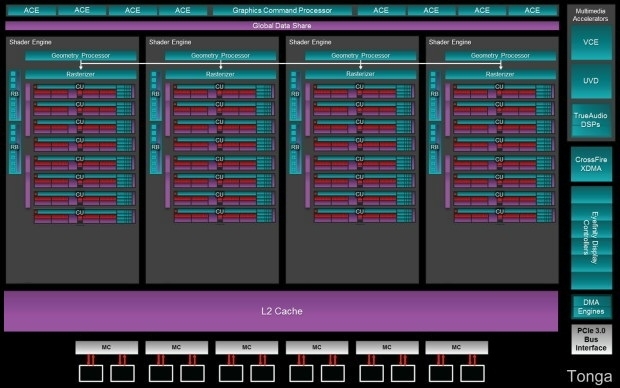 Hearing about the full version of the AMD Tonga graphic chip is already a year, and they have been going on since the announcement of the Radeon R9 285, in which a truncated version of this processor with the prefix Pro was used in the name. The number of GCN active nuclei in Tonga Pro, as you know, is 1792 with 112 texture blocks. But the full version of the predecessor, the Tahiti chip, totaled 2048 shader processors and 128 TMU, which gave rise to rumors about AMD plans for the release of Radeon R9 285X based on Tonga XT. Such a chip actually appeared, but was used only in Radeon R9 M295X, installed in the new generation IMAC. Later, the mobile version under the name Radeon R9 M395X became available.
According to foreign sources, the graphic map for desktop PCs expected by many fans of the AMD solutions will still see the light, and the previously postponed release Radeon R9 285X is due to the fact that AMD considered its energy consumption too high. But at present, the company needs a product that can take a niche between Radeon R9 380 and Radeon R9 390, and for the role «Parse» Tonga XT is the best suite. The new model will receive the name Radeon R9 380x, all 2048 GCN nuclei will be active in the graphic processor, but the question with the width of the memory tire is unclear. The Radeon R9 M295X uses a 256-bit tire, but it is possible that the Radeon R9 380X will receive a 384-bit tire. Its presence was previously confirmed by block schemes of the Tonga crystal pictures. True, such a step will require a significant alteration of existing printed circuits, which will negatively affect the cost of Radeon R9 380X.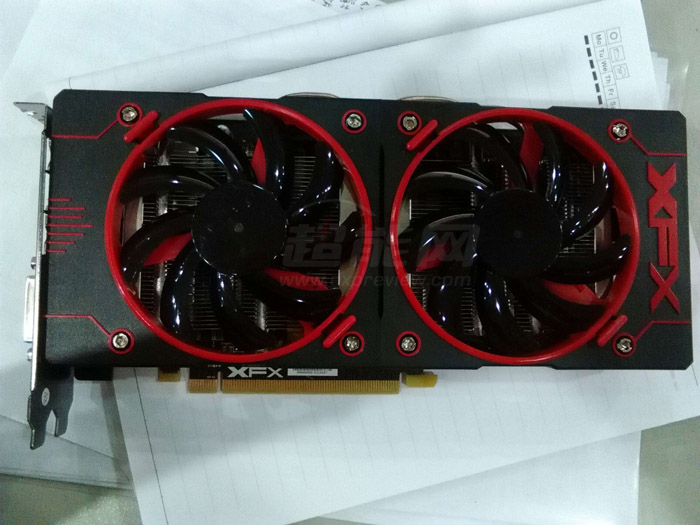 AMD partners for the production of graphic cards have already received the working copies of Tonga XT and, according to Expreview, are already working on the creation of the relevant models of video adapters, which includes the development of appropriate printed circuit boards. One of these models was captured in the picture, it will be released by XFX. We do not know anything about its technical characteristics, but most likely, the clock frequency of the graphic nucleus will be in the region of 1 GHz, and the price will be about $ 250. The volume of pantry video memory depends on what kind of implementation the AMD will choose: for a 256-bit tire it will be 4 GB, for the 384-bit most logical option is the installation of 6 GB GDDR5. It is expected that the heat packet of the new items will lie from 200 to 225 watts. As for performance, then at the expense of a newer version of GCN (1.2) Tonga XT decisions will significantly ahead of the cards in which the Tahiti chip is installed.
Source: