Those who doubted the capabilities of the Nokia mobile phone manufacturer «Rise from the ashes», It is worth changing your views regarding the viability of this brand. Within the framework of the Capital Markets Day 2016, which began on November 15, organized by the owners of the Finnish company for investors, the intention to become part of the mobile business again received not only official confirmation, but was also accompanied by the voicing of the stages to implement the planned.
The coming 2017 will be held under the motto «Returning legend to the business of smartphone release». True, the planned plans will be implemented with a small reservation: Nokia herself will not take on the development and manufacture of mobile devices, since its disposal simply does not have the necessary production facilities for this. In order to return to duty, the leadership of the Finnish company entered into agreements with HMD Global and Foxconn.
The first partner will take on the development of projects, issues related to product promotion in the market, and will also directly deal with the sales of devices. And the Chinese giant will get the development work and the process of manufacturing gadgets. A separate item is the involvement of an eminent advertising agency, a contract with which should help return the Nokia lost name.
According to slides published for participants in Capital Markets Day 2016, the first smartphone under the Nokia brand will be a code name model «D1c», which will be presented next year. With its appearance, a device based on Android 7.0 and with the Full HD screen, the Snapdragon 430 and 3 GB of RAM will replenish the assortment of smartphones of the middle price category.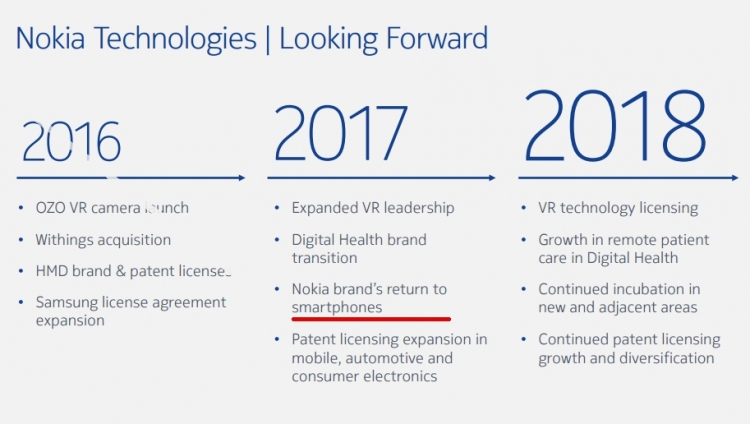 It is expected that the main event of the year — The first presentation of Nokia as a new player in the market — It will be held at the MWC 2017 exhibition, which will be held from February 27 to March 2 in Barcelona. Then we will learn that Finnish developers have prepared us with colleagues from HMD Global/Foxconn.
Source: