Earlier, on the first day of summer, AMD introduced the 28-nm mobile processors Bristol Ridge and Stony Ridge, which were part of low-cost Acer and HP laptops. Three months have passed, and Advanced Micro Devices announced the upcoming deliveries of desktop PCs based on the APU Bristol Ridge using the AM4 connector. Systems from well -known manufacturers of computers assembly HP and Lenovo will appear on sale «In the second half of 2016», That is, most likely this fall.
AMD new family of desktop APUs heads the four-core processor A12-9800. It operates at a frequency of 3.8 to 4.2 GHz, contains 2 MB of the second-level cache-memory, a two-channel hybrid memory controller DDR4/DDR3 and a graphical subsystem Radeon R7. Computing nuclei (modules) are based on the Excavator microarchitecture, and built -in video — on GCN 1.2. IgP block frequency can reach 1108 MHz, and the total heat generation of the flagship APU — 65 watts.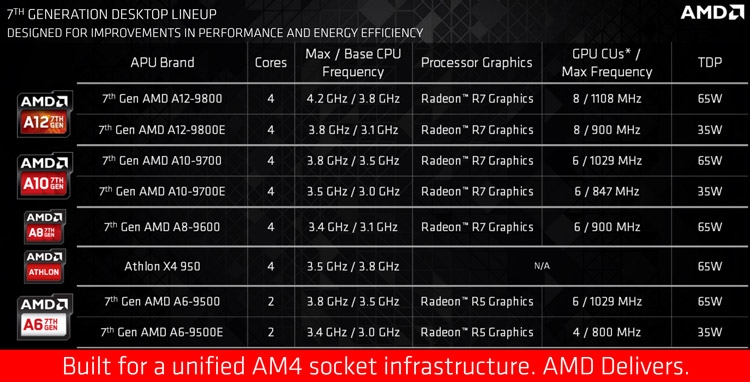 Depending on the model, the Bristol Ridge AM4 can operate with two or four X86-64 nuclei, as well as 256, 384 or 512 shader blocks Graphics Core Next. Economical processors of the A12/A10/A8-9000 series are characterized by TDP 35 watts and more modest performance. They can be distinguished by suffix E.
Details of the structure of the APU Bristol Ridge are not yet given for the AM4 platform, but most likely their differences from mobile analogues are minimal. In particular, the number «external» PCI Express 3 lines.0 is limited by eight. USB 3 controllers are built into the body of the processors.0 (4 channels), USB 2.0 and SATA 6 Gb/s (2 ports).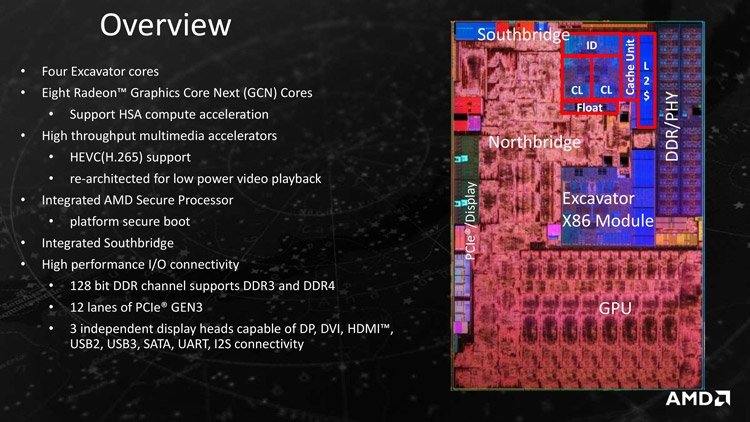 Despite the presence of integrated systemic logic, the first APU AM4 are associated with chipsets in the form of separate microcircuits (auxiliary «South bridges»). The AMD B350 chip contains USB 3 controllers.1 Gen2 and USB 3.1 gen1/usb 3.0 (2 connectors), USB 2.0 (6 connectors), SATA 6 Gbit/s (2 connectors) and six PCI Express 2 lines.0. It also provides the operation of RAID masses of levels 0, 1 and 10. Another chipset, AMD A320, has almost the same set of functions with the exception of a smaller number of USB 3 channels.1 Gen2 (one) and PCI Express 2 lines.0 general purpose (four).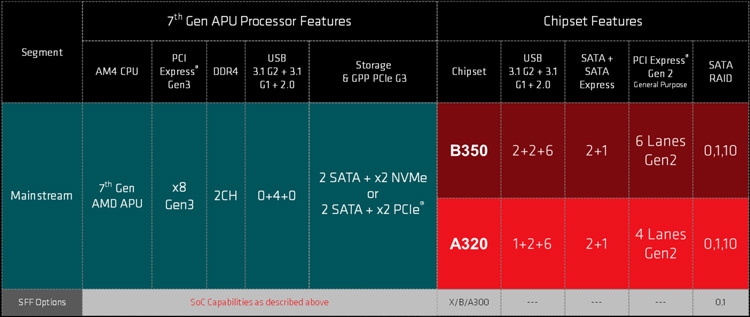 AMD X/B/A300 logic sets, as follows from marketing slides, are just a RAID controller with RAID 0 and RAID 1 options. They will be used in small form factor systems (SFF). For the top processors AM4 (Summit Ridge) in Advanced Micro Devices are prepared by other chipsets, which the company will tell about.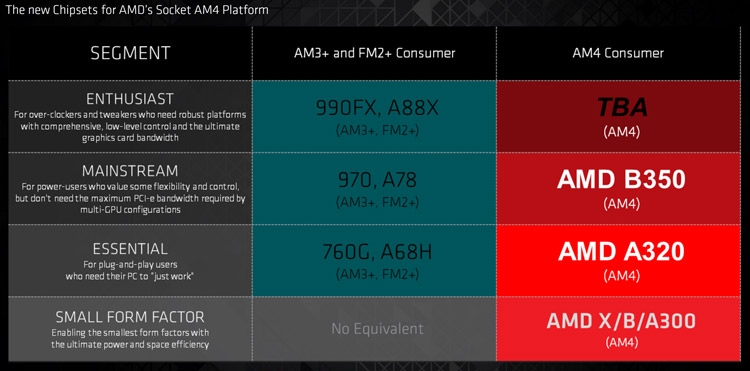 Sources: