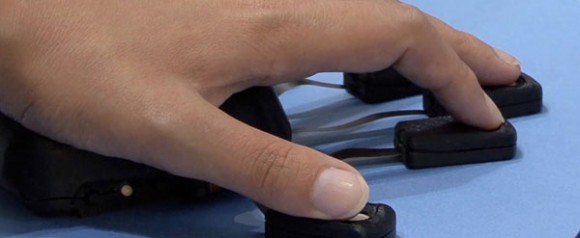 Double Research & Development Co. developed a new Amenbo input device, which tracks movement and measures the pressure from each of the five fingers. Five parallel signals allow the use of this controller in a wide range of applications.
The developers placed under each finger along the usual sensor of the computer mouse, as well as the pressure sensor. This means that the input means are not only horizontal, but also vertical fingertips. And flexible loops that stretch from the central unit give the process of control additional flexibility;The palms of people are different, and the controller is suitable for any user.
The authors are sure that the new controller has wider possibilities than Kinect, since the controller from Microsoft, in particular, does not feel pressure. Amenbo has advantages over sensory displays, since it will follow the finger, even when the user tear it off from the surface of the table. The authors consider working with 3D graphics editors one of the possible applications of such a device, for which an adequate controller has not yet been developed that most artists and designers would like. Another option, the authors see the control of a robotic hand with the same five fingers. However, the full arsenal of opportunities is unlimited.
Source: