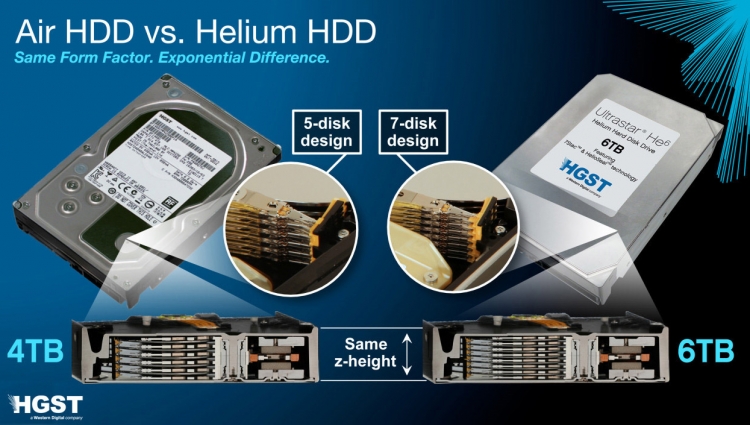 Western Digital corporation has opened this week that the supply of sealed hard drives (Hard Disk Drives, HDDS) based on the Helioseal platform for the first time exceeded one million per quarter. Apparently, HGST clients — Western Digital division, which produces similar HDD — Enough in technology to begin the massive use of hard drives filled with helium (Helium-Filled HDDS).
«We noted a good demand for our hard drives for enterprises, especially for our helium HDD high capacity, which we sold more than a million over the past quarter», — Steve Milligan, Executive Director of Western Digital, said during a television conference with investors and financial analysts. «We massively produce 8-TB Helium hard drives now and will increase the pace of introduction of 10-tB drives further in this financial year».
Filling out the internal space of the hard disk with helium allows you to install up to seven plates in it, reduce the power of HDD electric motor and reduce energy consumption, increase the accuracy of head positioning, lower the noise level and heat dissipation. Currently HGST offers sealed harsh wheels Ultrastar He6 and Ultrastar He8 with a capacity of 6 and 8 TB. Selected customers of the company can purchase Ultrastar Archive HA10 with a volume of 10 TB.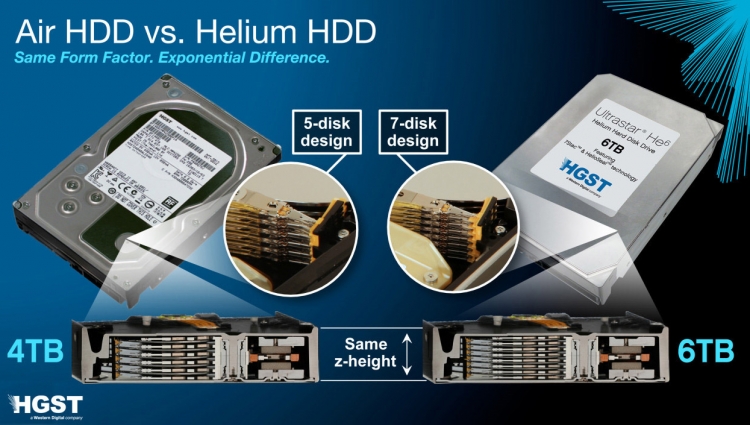 According to NIDEC Corporation, the supplier of the motor for sealed hard drives HGST Ultrastar He and HGST Ultrastar Archive Ha, sales of the hard drives in the third quarter amounted to 1.1 million units.
In total, for the first quarter of the financial 2016 (corresponds to the third quarter of the calendar 2015), Western Digital sold 7.185 million hard discs for data processing centers. Thus, the HDD helium was 15 % of the company's supplies for the data center. So far, the share «Geliev» stiff drives among solutions for data processing centers do not exceed 5–7 %.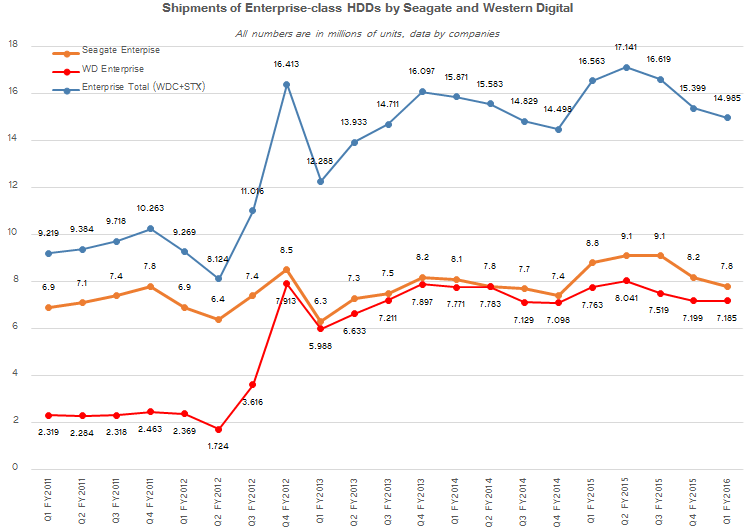 HGST began sales of hard drives filled with helium in November 2013. By the end of March this year (a little less than a year and a half of sales), the company sold a total of about a million hermetic hard drives. Thus, one can note a sharp increase in demand for drives based on HGST HELIOSEAL platform. According to Western Digital, previously expressed this year, the popularity of hermetic drives in the data center will only grow.
This week Seagate Technology confirmed plans to release hard drives in the first half of 2016. Although Western Digital has a two -year handicap with hermetic drives on magnetic plates, the company is not going to rest on the laurels and will continue to aggressively develop the next generation «Geliev» HDD.
«We have learned a lot and have developed a lot along the path [Evolution of the Heliev HDD]», — Mr. Milligan said. «When you are ahead of a competitor into three or four generations, this is a fairly significant advance. Having said this, we fully respect our competitor, we are not going to rest on his laurels, but we will move on».
Sources:
Barron's
HGST
Western Digital