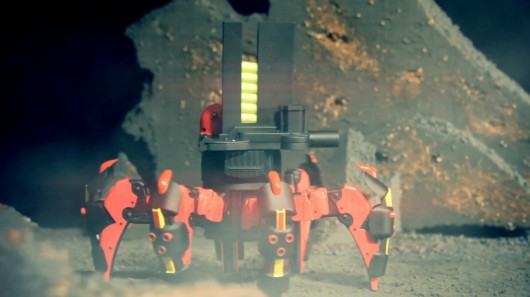 An engineer named Jaimie Mantzel invented a toy that he calls «the best in the universe». The toy really turned out to be not bad, this is a six -legged robot with support for remote control. He knows how to shoot three different types of ammunition that break off the armor from the opponent — the same toy robot participating in the duel.
At the moment, the robot still does not have a name, but the product is already preparing to launch in serial production by Wow! Stuff, and on this occasion the manufacturer has already announced a competition for the best name for the toy. In addition to the name that will appear on all such robots, the prize will be a copy of the machine itself. The nameless robot is equipped with removable fire units that shoot foam missiles, disks or ping-pong balls. The longer the owner of the robot holds the launch button pressed, the further the shell flies. The robot housing is put on «Armored» (actually plastic) plates that fly away when the projectile enters.
Now the author is ready to demonstrate only a few prototypes, the serial version will have several differences for the better. In particular, electric motors are still too noisy, the toy on sale will be somewhat quieter. In addition, in the future, the author is going to add to the kit «Smart» the components that will be highlighted when it hit, and after three hits the robot will turn off.
Source: