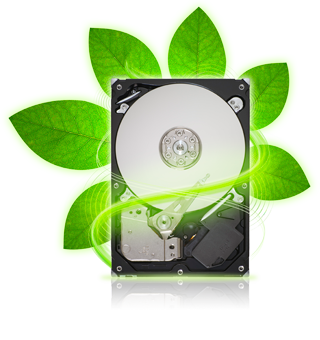 Seagate has announced the start of the second -generation of the hard drives of the Barracuda LP family – new solutions have a new name and more "green" characteristics. Barracuda Green has a built -in Seagate Smartalign technology – a special firmware that will facilitate the transition to systems with Advanced Format sectors to 4 KB.
As the manufacturer notes, the new name is more universal and understandable than the name of the previous generation, and this hard drive justifies it. According to Seagate, the last addition to the family of environmentally friendly solutions is the most productive disk in the class in the class of energy -efficient drives.
Barracuda Green has a spindle rotation speed of 5900 rpm, SATA Interface with data transfer speed of 6 Gbit/s and the volume of cache 64 MB, which allows this disk to provide performance comparable to many gesture discs at the speed of rotation of 7200 rpm, butAt the same time, consume 40% less electricity. This solution will be used in external drives with ESATA, USB and FireWire interfaces, as well as in energy -efficient computers. The capacity is up to 2 TB.
The environmental friendliness of the new generation Barracuda Green is also confirmed by the fact that more secondary raw materials are used to manufacture. In addition, Barracuda Green for the first time has configurations and capacities that fully meet the standards for the use of low -halogenic products.
Source: Seagate