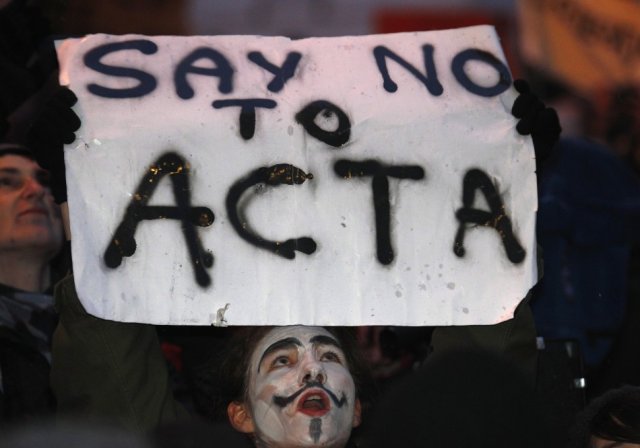 On Monday in Riga, several hundred people took part in the protest against a trade agreement on combating counterfeit products (ACTA). Mostly young people gathered at the Cabinet of Ministers in the Latvian capital. In the hands of the participants in the protest rally were posters in Latvian and Russian. Some of the audience sealed their mouths, others used Anonymous masks. The event also had anti -globalists. Meanwhile, according to Latvian television, police officers detained one of the participants in the action, which was in the Anonymous mask. Police officers said that the detainee warned several times, but he ignored warnings (the use of masks on the street in Latvia is prohibited by law – approx). The organizers previously called on protesting participants not to use masks.
Protests against Acta took place throughout Europe on Saturday, Riga joined two days later. Acta is an international agreement aimed at creating conditions for combating copyright violations. His supporters claim that this is necessary in order to end cyberpiralism. Opponents believe that we are talking about an attempt to significantly restrict the rights of citizens and ultimately establishing censorship on the Internet.
On January 26, the Ambassador of Latvia to Japan Peteris Wevars signed this agreement on behalf of the government, but last week the Minister of Economy Daniels Pavlyts decided to suspend its ratification. The transfer of the contract to the Seim of Latvia and its ratification are suspended in connection with the moods in certain groups of the company, as well as expert fears about how this agreement will be applied in Latvia.
The Minister admitted that with timely clarification of the essence of Acta Latvia was late. Therefore, now it is necessary not to rush the ratification of the agreement in the Sejm, but to initially provide a constructive and reasoned dialogue with all interested parties. Pavluts will ask for his conclusions Ombudsman and other interested ministries. ASTO is to analyze the potential influence of AST on legislation, copyright protection, fundamental rights and freedoms, the use of the Internet, the Latvian media reported.
Source: CyberSecurity