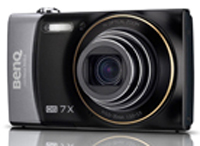 The press service of BenQ has announced the release of the BenQ P1410 compact digital camera, positioned as the flagship of the new product line P Series.
The device is enclosed in a metal case with a thickness of 19 mm, is equipped with a 14-megapixel image sensor and equipped with a wide-angle 28-mm lens with a 7-fold optical zoom. Even in the arsenal there is a 3-inch LCD display with a resolution of 460,000 points and a double stabilization system. Among other things, the device is endowed with the technology of improving the quality of the image of High Dynamic Range (HDR) II, the functions of Skin Soften, De-Blemish, Smile Detection, Intelligent Scene and Face Detect, 2CM SUPER MACRO, Panorama and Night Schene modes. Mode, special effects Toy Mode, Lomo Style, Color Accent and Fisheye, as well as the ability to record an HD video with a resolution of 720p.
The product described above will go on sale around the world before the end of the current month, but it is not yet known exactly at what price.
Source: