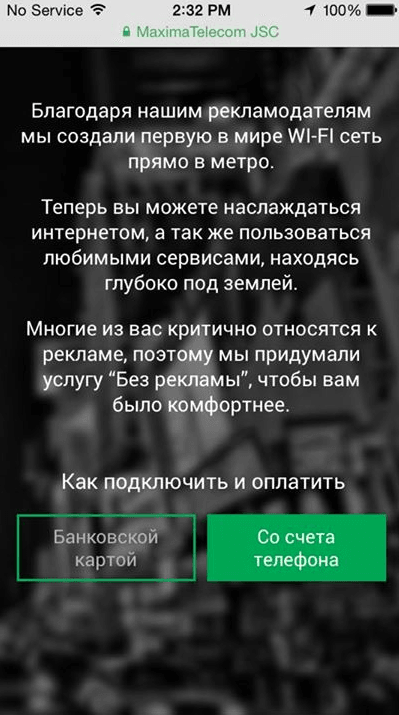 Payment is made from a bank card or a mobile phone account. Connection of the package is monitored through the MAC address of the device.
Press Secretary «Maximelcom» Ilya Grabovsky explained the introduction of the service with numerous user requests. «We are confident in its demand among network users», — Says Grabovsky. According to him, «Periodically users themselves offered a similar solution», which, in the end, decided to realize for everyone.
About 1.1 million people now use Wi-Fi in the Moscow metro network now. The monthly audience of unique users of the metro network has about 8.2 million people.
In December 2014, IGUIDES General Director.ru Denis Seleznev filed an application with the Federal Antimonopoly Service due to the fact that when connecting via Wi-Fi in the Moscow Metro Operator «Maximelcom» He displayed the full -screen banner when viewing a number of sites, without negotiating this with their owners. Seleznev regarded these actions as the use of means of unfair competition.
Source: