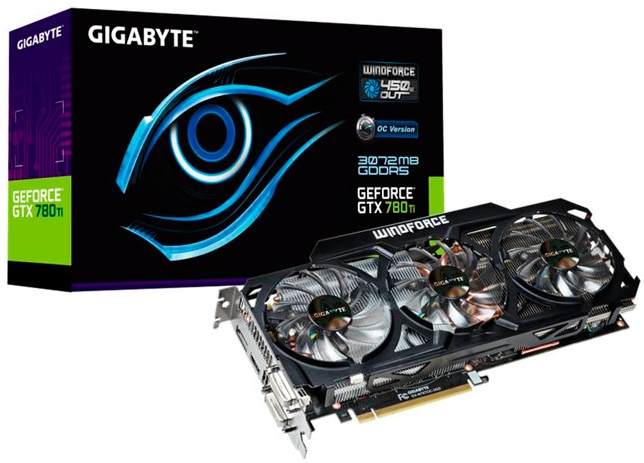 Immediately after the world premiere of the top graphic adapter, the GeForce GTX 780 Ti from NVIDIA based on 28-nm design standards of the GK110 chip with 2880 Kuda nuclei and Kepler architecture, Gigabyte Technology said its original in the execution and fabricated executed version of this solution.
The developers presented the GV-N78TOC-3GD model to the court of demanding gamers with a powerful double-sloping cooler Windforce 3x 450W and Triangle Cool technology, which contains a massive aluminum radiator, six copper heat pipes (two with a thickness of 8 mm and four diameter of 6 mm), as well as alsoThree small fans with a rotation speed control function by the method of wide-pulse modulation. According to the creators, their cooling system is capable of removing up to 450 watts of excess heat and in comparison with the reference copes with its duties by 14% more efficiently.
The novelty is built on a printed circuit board under the PCI Express 3 bus.0 x16, has 3072 MB of GDDR5 memory with a 384-bit interface, is equipped with two DVI connectors, the HDMI port and the DISPLAYPORT port is compatible with DirectX 11.1, and is also endowed with support for technologies Cuda, Physx, SLI, GPU Boost 2.0, FXAA, TXAA, Adaptive VSYNC, 3D Vision and 3D Vision Surround from Nvidia.
Unfortunately, nothing is said about frequency indicators, price and terms of the start of sales of this accelerator.
Source: