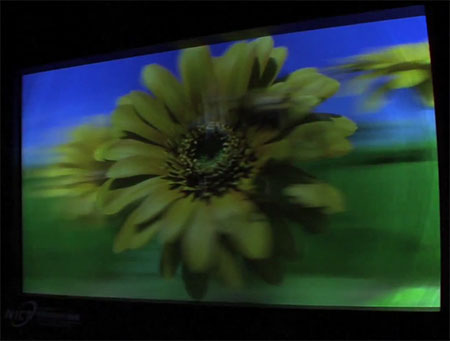 Scientists of the Japanese National Institute of Information and Communication Technologies of NICT together with engineers JVC Kenwood have developed a 200-inch 3D screen, on which the image is created in the resolution of Full HD from 57 angles. This means that people who look at him from different positions see the same object in different angles.
In each perspective, the viewer sees a picture with a resolution of 1920×1080 pixels. In traditional screens, the viewing angle is a little less than 180 degrees, but here the detailed angle is divided into sectors of 13 degrees. In each such sector, the viewer sees an object at different angles, and people standing in the left and right corners of the room receive different pictures. For example, if a cube is shown on the screen, then they will see its different side faces.
To achieve this effect, the screen is located an array of 57 projectors tuned relative to each other in such a way as to create a single three -dimensional image with a relatively smooth transition between angles. Of course, this is a very large structure, which also includes a condenser lens, focusing light, creating a clear image, as well as a diffuser film that provides smooth transitions between the angle angles.
Now scientists are working on technology, which will shoot for this complex 3D system, but they do not yet want to share intermediate results. To obtain a compatible image, you need an array of cameras that shoot with an interval of only 2 cm. Traditional cameras for these purposes, as we see, are not suitable, therefore it is necessary to create an array of cameras «from scratch». But there are no problems with computer graphics, the cameras in the virtual space can be placed as the author wants, even with intervals of 1 or 0.5 mm.
In the future, the authors plan to increase the number of parallax images from 57 to 200, as well as make a screen of larger dimensions. The developers are already ready for the commercialization of technology, but this will depend on demand, and this moment will clear up in the very near future.
Source: